"The Hunger Games" by Suzanne Collins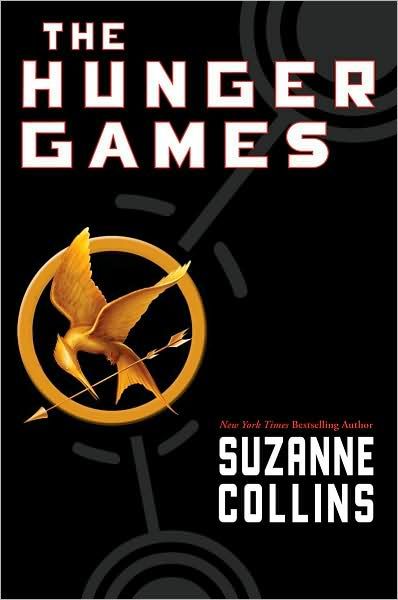 I tried to get away from reading this book for a long time, but then I realized that there is no escaping it!
Everywhere I went I saw one of the three hunger games books around. You cannot step into a local Barnes and Noble without seeing on of these books. What is all the hype about anyway? Can these books really be that good? KNA no WAY! Well, at least that is what I thought. I tried to get away from it but eventually I fell in and started to read the first book of the trilogy "The Hunger Games."
From reading the cover, you can tell that this book is targeting Young Adults, however; after reading a couple of chapters Suzanne does a great pulling people of all ages into the story.
Quick Synopsis from GoodReads:

In the ruins of a place once known as North America lies the nation of Panem, a shining Capitol surrounded by twelve outlying districts. The Capitol is harsh and cruel and keeps the districts in line by forcing them all to send one boy and one girl between the ages of twelve and eighteen to participate in the annual Hunger Games, a fight to the death on live TV.
Review:

This book captures the true essence of survival and emotions. What is love? What are we willing to do to survive? What is real? The book will have you on the edge of your personal emotions, with non-stop thinking of how you would react to certain situations. I had to stop reading a couple of times just to catch my breath. Suzanne Collins sure has a way to astound you in her artistic talent of writing.
Character development:

Suzanne Collins does a great job with developing her characters. It does not take long to know all the major characters in her novel. It is even amazing how she only gives you enough of each to keep you guessing. You know just enough to know the person. However, not enough to know what they are thinking or what they are planning to do next. WOW!
Plot:

I have read many books on survival and post apocalyptic adventures. This is I guess what caused me to stay away from this book for so long. Most books in this genre usually are similar. At least of all the books that I read. However, this book took me totally by surprise.
We read about survival, a civilization trying to make it, a common enemy who no one dares to fight, and sacrifices being made at all levels of humanity.
The story is full with so many turns that it is hard to put the book down.
The hunger Games takes you away into a different land and different mental zone. A book that causes you to drink extra coffee the next morning because you stood up all night reading wondering what is going to happen next. I love these types of books.
Please do not take so long as I did to read this book. I wish I had read it long ago. Cannot wait to read the other two in the trilogy, especially since I know I cannot escape them.
5 out of 5 Shots
AMAZING!!!